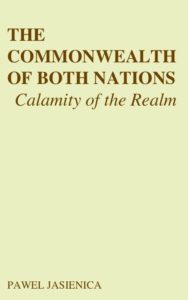 by Pawel Jasienica
Translated by Alexander T. Jordan
The fourth volume of Pawel Jasienica's magnificent epos of Polish history, "Calamity of the Realm," covers part of the 17th century and deals with a multitude of wars with Muscovy, Sweden, the Tartars, Cossacks, and Turks. It also describes the complex relations between Poland and France.
The dominant protagonist of the era was Jan III, one of the greatest kings in Poland's history. He was first and foremost a brilliant commander, whose victories won him the popularity which brought him to the throne.
Jasienica describes in colorful detail the many campaigns of Jan Sobieski, in which he demonstrated a tactical skill that won him battles against enemies far stronger in numbers.
Elected king in 1674, Sobieski proved to be a statesman as well as a soldier, but his task was rendered almost impossible by the intrigues of the powerful lords, who frustrated any attempt at adopting constitutional reform. The situation was complicated by his French-born queen, who tried to promote the interest of France and its King Louis XIV. King Sobieski's letters to his beloved wife show him to be a talented, poetic writer.
The highlight of Sobieski's reign was the great battle of Vienna in 1683. A huge Turkish army led by Kara Mustapha was advancing westward. The Habsburg emperor fled his capital of Vienna, unable to defend it. Germany could not match the Turkish army. The future of Europe was at stake. King Jan Sobieski came to the rescue at the head of the Polish army, smashing the Turks and thus any threat to the Western Europe by the Ottoman Empire.