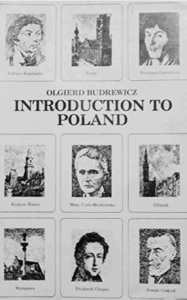 author Olgierd Budrewicz
illustration Jerzy Flisak
"Introduction to Poland" by well known Warsaw writer, Olgierd Budrewicz, is the American edition of much acclaimed book that appeared first in 1980 in Polish and since then in several languages in Europe. The book, richly and humorously illustrated by Jerzy Flisak, is a must for Americans of Polish descent and for all interested in things Polish. It is highly personal, emotional but extremely informative introduction to Poland, Polish towns and villages, historical places and history of the Polish nation. it tells you – or reminds you – of Polish humor, hospitality, sense of time, ghosts, mathematics, vodka, mushrooms, etc. More than 50 towns and villages worth a visit are mentioned in the book which has five sub-chapters. the titles of the chapters are "What To Know", which explains some of Poland's history; "What To Understand" which puts recent Polish history into perspective; "What To Discover" which explains Polish customs; "What To See", which tells the reader about the beauty of Polish towns and countryside; and "What to Remember" which gives the traveler useful tips. Mr. Budrewicz put it very succinctly in his foreword: "the beginner is therefore given fair warning that he is going to be briefed on things Polish by a publication that is absolutely unofficial and unobjective – through it does, of course, make a scrupulous point of getting the facts right. Nevertheless, it would be a shame to treat it as gospel"
Simply put "Introduction to Poland" is fun to read.
Olgierd Budrewicz
Born in Warsaw, studied law but later turned to writing. In world War II served in the Polish Underground Army and fought in the Warsaw Rising of 1944. Author of 25 books and hundreds of magazine articles, largely reporting his worldwide travels. Many of Mr. Budrewicz's books were bestsellers in Poland and several were translated into foreign languages. Mr. Budrewicz is the recipient of many literary prizes and awards.
Jerzy Flisak
Born in 1930 in Warsaw, Jerzy Flisak graduated in architecture and eventually concentrated on art, specializing in cartoons, illustrations and posters. His work won many international awards, among them, that of the Art Directors' Club of New York (1964) and the 'Silver Hugo' at the International Film Festival in Chicago (1980).