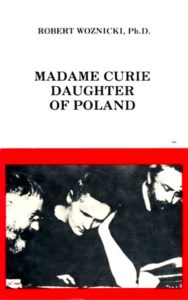 Author Robert Woźnicki
Dr. Robert Woźniacki, a distinguished historian and educator, is the first American of Polish decent to write a biography of Marie Skłodowska Curie. His previous books, among them "The History of Western Civilization", "Yuma and the Territorial Prison" and "The History of Arizona" have been acclaimed for their clarity and scholarship.
Dr. Woźnicki's latest book is compelling and brilliant account of Marie Curie's exciting life in Poland and France. Born in Warsaw in 1867, Marie died of leukemia in France at the age of 67. The author updates her life in light of the progress in nuclear sciences which were advanced, if not initiated by the Curies and a close friend, Albert Einstein. The discoveries of radium and polonium by the Curies represent a landmark in the history of modern sciences. Mme. Curie herself made a tremendous contribution to medicine when she first utilized radiology during World War I.
Madame Curie, a dedicated Polish patriot as well as great scientist, spent the first 24 years of her life in Poland. The author traces her life from childhood to her arrival in France where she was virtually unknown but would attain world fame in a relatively short time. Dr. Woźnicki tells us how the Curies, despite their fame, remained self-effecting and never profited from their discoveries. In addition to being the recipient of two Nobel prizes, Madame Curie had the rare distinction of being a full professor of sciences at the famed Sorbonne University in Paris. A champion of women's rights, she remains an inspiration to woman all over the world.
In addition to researching material on Marie Skłodowska Curie in Poland, Dr. Woźnicki conducted a personal interview with her side surviving daughter Eve, in New York City. Many new and fascinating sidelights drawn from that interview are interspersed throughout the book.
In a carieer spanning 35 years, Dr. Robert Woźnicki has been on facilities of private and public schools in Michigan, North Dakota, California and Arizona. He was also professor at San Diego State University and the University of Maryland among other colleges. He was Director of Central Cultural School in Asuncion Paraguay.
Dr. Woźnicki received his B.A and M.A. degrees inPhilosophy at st. Mary's University in Baltimore, and his Masters Degree in History at the University of Michigan. He was awarded his Doctorate Degree in History at the University of Madrid, Spain and later did post-doctoral studies at Oxford and Cambridge Universities in England, and at the Universities of Illinois, North Dakota and Arizona State. In 1980 the Kosciuszko Foundation of New York awarded him an exchange grant to the University of Warsaw, Poland, thus becoming the first Polish-American to have taught a course in American History there. He makes his home in Glendale, Arizona with his wife and 4 children.
The American Institute of Polish Culture
Mrs Blanka A. Rosenstiel founded the The American Institute of Polish Culture (AIPC) in 1972 as a non-profit, non-sectarian, tax-exempt Florida Corporation. The aims of the Institute are twofold: first, to share with the American society the heritage of Poland, which has contributed to many ways to Western civilization; second, to promote the scientific and artistic endeavors of Polish-Americans.
Our endeavors have received support from the state and local governments, the enthusiastic participation of other ethnic groups in the community and the friendly cooperation of the press, all of which help to strengthen our leading role in the cultural life of the community. We have many plans for new activities to promote knowledge about Poland and American Polonia. Buying this book you too support the activities of the Institute.