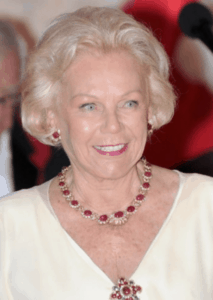 Dear Members and Friends,
Having arrived at its 50th year, I am elated to share with you the celebration of this milestone for The American Institute of Polish Culture. Such a magnificent achievement cannot be recognized without reflecting upon the remarkable events, programs, and activities, which combined have only strengthened the reputation and success of The Institute I established in 1972 and proudly incorporated in 1973.
It is hard for me to believe that five decades have passed, and yet it feels like it all happened in the blink of an eye. As I go over many albums with photos illustrating our archives of people we invited and honored, it seems incomprehensible to have such an array of accomplishments. So many memories, so many ideas, which I was fortunate to be able to implement with the help of you all, our members and friends.
As is evident by one of my favorite mantras, I feel my best when I am engaged. For example, one of our principal goals has been to establish and fund ongoing educational programs with revered academic organizations to further promote Polish culture and provide additional access to higher learning. Being able to do so for so long with such prestigious institutions as Florida International University,
University of Miami, University of Virginia, Institute of World Politics, and The Fund for American Studies, just to mention a few, bears a reflection of having reached thousands of students, community members, and visitors with new, more accurate, insightful Polish history and culture.
We are especially proud of our annual scholarship recipients. We now have two programs: the Harriet Irsay Scholarship, and the Lennox Family Award for Excellence. Support provided through these scholarships is eternally appreciated by the students, to whom close to 400 awards have been distributed since 1992. We hope you enjoy the sections highlighting the 2021-2022 recipients, along with selected articles they contributed to this edition. Congratulations to all of the award winners past, present, and future.
As another season commences, it is now clear The Institute's vision was never to singularly promote Polish culture, but to enrich lives by forging lasting connections with people – through community outreach and sharing innovative ideas – while consistently contributing to the narratives of Poland, her people and the dynamics of Polonia in America. Every year, the accomplishments of my fellow Poles and
Polish-Americans affirm my national pride and provide the inspiration that keeps The Institute moving forward.
Excitedly, we are orchestrating the details for The International Polonaise Ball "Golden Jubilee" of February 11 and Special Brunch of February 12, 2023. Please mark your calendar, come to the glimmering shores of Miami Beach, and join us as we celebrate 50 years of sharing the rich heritage of Poland in America – the mosaic of various nations and cultures that make up this melting pot. Each Ball is a cherished gathering for me, as well as so many from near and far, but most importantly it is The Institute's annual, single fundraiser; your attendance and
sponsorship help sustain the year's activities and events thereafter. Many thanks to
all those who make it a point to be present year after year, and to those for whom
this would be their first Ball, shall it certainly not be their last.
Thank you all for supporting us, for your generosity and participating in our events. It gives me joy and satisfaction that my labor of love is consistently appreciated and cherished. I encourage you to donate when you can and however much you can; whether it be to the scholarships, lecture series, publications or general fund of The Institute, having your assistance is paramount to the advancement of these
incredibly worthy causes.
I am very grateful to Beata Paszyc, Executive Director who has worked at the Institute for 23 years, for her loyalty, creativity, professionalism and vision in carrying out our mission. Many thanks go to Vanessa Rae Rodriguez, Executive Assistant, for her hard work, competency and proficiency.
I often find myself in further introspection when recalling another one of my favorite quotes:
"I shall pass this way but once;
any good that I can do
or any kindness I can show
to any human being;
let me do it now.
Let me not defer nor neglect it,
For I shall not pass this way again."
Anonymous
I consistently and wholeheartedly agree, as I give my financial support and my heart to this organization, and what I get in return is most important and priceless: I get to live my purpose, I get to extend my friendships, as I get to share with the world Poland's uniqueness and indomitable spirit.
With Much Gratitude and Love,