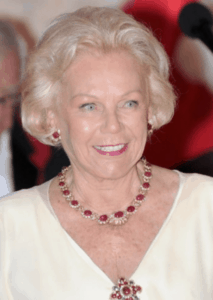 Dear Members and Friends,
These days I find myself thinking about the extraordinary life I have led; I am truly fortunate and blessed. And yet, I am not alone. There are millions of people who lead extraordinary lives. Obviously there are many definitions of what makes something extra or better, just as there are endless ways to reach for the stars and achieve a dream. But all of us have to start with an idea that has meaning to us, and we have to be willing to change directions until we are on the path we were meant to take all along. It is about finding what energizes us, what gives us joy, and what defines our purpose in life.
I always knew that my purpose was to share my gifts and blessings. Once I was firmly established  in America, I wanted to be in service to others in some fashion. It had to be something that would be beneficial to everyone involved and mutually supportive. And because of my Mother's wisdom, I was lucky enough to find the perfect way to make this happen.
My Mother knew I was yearning to find a cause close to my heart. She told me quite bluntly that I must devote my time and energy to Poland and the Poles in America…that there were very few national organizations interested in us or even knew much about us, and that I was in an excellent position to change that. It was as if a light bulb went on for me. She was absolutely right! What is that popular saying, "Do what you know?" By shining a spotlight on my native country men and women…what we have done, where we are going, and how we improve the world around us — I would be part of something I love while fulfilling my desire to help others. 
I am so grateful that The American Institute of Polish Culture has accomplished what it was created to do in 1972. We continually recognize the achievements of Poles in the US and around the world, and we are committed to the ongoing support of those who are just starting out. Thousands of people have taken the journey with us making it that much more exciting and enriching. 
My utmost appreciation must go to two women who keep the Institute moving forward. A very special thanks to Beata Paszyc and Lynne Schaefer for their creativity, ideas, and thoughtful insights, and for working hard to make AIPC the best it can be. Thanks also to our dear members and dedicated volunteers for giving of themselves to help us stay the course.
Enjoy this issue of Good News. We strive to include articles that are informative, that applaud Poles from all corners of the world, and that showcase people who have found their purpose and gone after it. 
I leave you with an excerpt from the poem "Ithaka" by Constantine Cavafy that was published in 1911. 
Ithaka
…
Keep Ithaka always in your mind.
Arriving there is what you're destined for.
But don't hurry the journey at all.
Better if it lasts for years,
so you're old by the time you reach the island,
wealthy with all you've gained on the way,
not expecting Ithaka to make you rich.
Ithaka gave you the marvelous journey.
Without her you wouldn't have set out.
…
May you all reach your Ithaka.
Love,