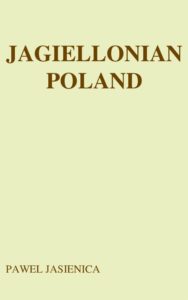 author Paweł Jasienica
translated by Alexander T. Jordan
The high noon of Poland's history, the period which brought the nation to the pinnacle of its political growth and its culture to a golden age, setting the pattern for centuries to come, is brilliantly described by Pawel Jasienica.
A bestseller in Poland, packed with facts, rich in vivid anecdotes, this historical book describes the turning point in Poland's history – its union with Lithuania, whereby Poland became at one stroke the largest country in Europe at that time. It is a fascinating journey into another era, probing the thoughts and motivations of Polish people, pondering the choices they had to make, and their consequences – some of them reverberating to this day.
It is also the story of a family that bore the name of its founder Wladyslaw Jagiello, the incredible tale of the evolution wrought in only three generations, starting with the dour, shrewd but untutored founding father, a pagan warrior from the wild forests of Lithuania, to the last of the line, the frail, sophisticated and somewhat decadent Zygmunt August. It was a long way from the victor of Grunwald, no stranger in his youth to the worship of ancient heathen deities, to his grandson, the effete Renaissance prince, fluent in several languages and perhaps superior in intellectual attainment to most statesmen of our day. The Jagiellonian era was the time of the Renaissance and the Reformation, two movements that changed the face of our civilization. Jasienica analyzes perceptively their impact in Poland and the unique manner in which that country shared in the mainstream of West European thought.