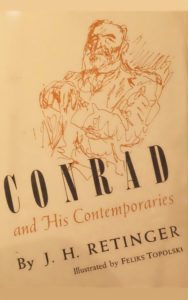 Author Joseph H. Retinger
Illustrated by Feliks Topolski
Probably few of his contemporaries had as intimate a relationship with Joseph Conrad as his fellow Pole and lifelong friend, Joseph H. Retinger. Retinger's life paralleled closely that of Conrad. They were both born in Poland and came as young men to England, where they met when Conrad was beginning to carve for himself the literary career which lifted him to heights of world renown. The two friends moved in the same circles and shared intellectual interests. Their friendship lasted until Conrad's death.
Conrad showed to his friend Retinger a side of his life unknown to other contemporaries and biographers. Their common roots and language formed a strong bond between them, and it was Retinger who brought Conrad back to Poland after an absence of 40 years. By an odd coincidence, Conrad's homecoming occurred when war was declared in 1914.
Joseph Retinger's subsequent life had its Conradian accents. He took an active part in the Mexican Revolution and the Spanish Civil War; during World War II, after a lifetime as a roving intellectual, bohemian and writer, he assumed a role of considerable political influence as the grey eminence – some said as the Harry Hopkins – of the Polish government in exile headed by General Sikorski, another of his eminent friends. Acting as his agent, Retinger, then over 50, parachuted into Nazi-occupied Poland to establish contact with the underground resistance movement.
Conrad, who took greater pride in his skill as the master of a sailing ship than in his writing, would have understood his old friend's gamble with death. They were both intellectuals craving for action in the real world.